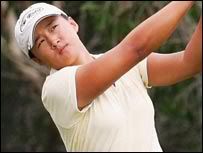 Amy Yang

Amy Yang of Korea celebrates victory with her father after her final putt in the ANZ Ladies Masters.Photo: Getty Images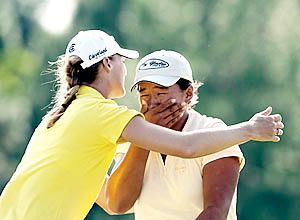 CONGRATULATIONS . . . Catherine Cartwright prepares to embrace an emotional Amy Yang after the teenager claimed victory at the first playoff hole at Royal Pines yesterday. Picture: David Kapernick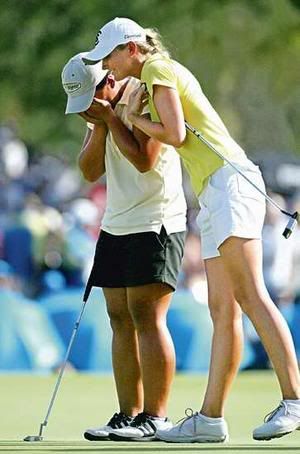 Overcome … Amy Yang, left, is embraced by the runner-up Catherine Cartwright.
Photo: Paul Harris
Shy Korean schoolgirl Amy Yang created golfing history when she upstaged the professionals to win the ANZ Ladies Masters at Royal Pines on the Gold Coast.

Not only did the Korean become the youngest winner of the Masters, but she is the first amateur to have won a major women's title in Australia.

Amy Yang sank a 23-foot putt to become the FIRST amateur to win on the European Tour for more than 20 years.

Then, just like any youngster who had accomplished a feat of astonishing virtuosity against her elders and the odds, the gifted Korean's stoic facade finally crumbled and she wept uncontrollably on the 18th green at Royal Pines.

Not was she alone.
Though her joyful classmates from down-the-road Robina High were celebrating wildly, there was scarcely a dry eye anywhere around the 18th green as the 17th ANZ Ladies Masters erupted to yet another epic conclusion.

American Catherine Cartwright, the leading professional, who came second, took home the winner's cheque of US$90,000 (£51,000). - the biggest pay cheque of her career -- courtesy of Yang's amateur status.

Cartright didn't know she was only 16. She didn't know she was an amateur.
And therefore Cartwright didn't realise she would collect the winner's cheque for $90,000 instead of Yang, even though the teenager beat her in a play-off for the Australian Ladies Masters.

Cartwright learnt from her caddie that she had lost to a schoolgirl but would walk off with the winnings, thanks to Yang's amateur status.

Never before in Australian golf has there been such a stunning upset as that of the South Korean-born Yang, who came to the Gold Coast just 14 months ago because her family believed she had the makings of a champion.
In truth, she couldn't break par on arrival.

The 16-year-old Amy Yang from nearby Robina High School overcame final hole nerves to beat American Catherine Cartwright with a seven metre birdie putt at the first hole of a sudden-death play-off.

She's the first amateur to win a major women's tournament in Australia and the first to win on the European tour since Britain's Gillian Stewart won at the Belfry in England in 1984.

She is also the first Korean and youngest golfer (male or female) to win a professional tournament in this country.

Her coach Laurie Montague, who has an academy at Palm Meadows on the Gold Coast, said her life would not change too much although she could get some more invitations to play in international tournaments.

Her father James, her caddie yesterday, brought her to Australia 14 months ago as a three-five handicapper, convinced she had the makings of a champion golfer.
He wasn't wrong but her coach, Laurie Montague, who brought her to the lofty heights she reached at the weekend, is still amazed with her performance. "To borrow the Bobby Jones line about Jack Nicklaus, Amy plays a game we are not familiar with," he said.

Asked what her coach has said to her before the final round of 70, the coy teenager said "have fun and no fear".

Her playing partner American Tiffany Joh, who played as an amateur, said:
"I've never met anyone so humble.

She makes me feel like I'm about to go through my mid-life crisis.

Her game is just so solid, she doesn't get too excited. When it comes to maturity on the golf course, she was way beyond her years."
Cartwright, 22, said she was surprised to be beaten by a 16 year-old amateur.

Defending champion Karrie Webb (71-68-74-72), shooting for her sixth Masters, again struggled with her putter, eventually finishing tied 33rd with Britain's three-time Masters winner Laura Davies (73-73-70-69).

Leading Australian was Nikki Campbell (68 yesterday) who shared sixth with Kreutz (71) at 11-under. South Australian Tamie Durdin also finished with a 68 to be a stroke back in eighth place with Frenchwoman Gwladys Nocera.
The other big draw card, Japan's Ai Miyazato (71-75-71-72) finished in 49th place.

She is is nowhere near the rush Michelle Wie and her father had last year when Wie turned professional at the same age as Yang is now.

The Grooming of the Champion

When she arrived in Australia 14 months ago, she could play golf, but not exceptionally well. She had been playing for six years, but a daily routine of driving-range practice had left the chipping and putting under-done.

She has an upright, rhythmical swing, but lack of a meticulous short game made it difficult for her to shoot low rounds consistently.

Her Gold Coast coach, Lawrie Montague, figured her handicap was around three to five when she was first recommended to his academy.

She is now off scratch and last year shot 62 in the club championships at her Gold Coast club, The Glades. In that round, she bogeyed the first and last holes.

She blossomed in the past six months and won the Queensland and New Zealand amateur titles.

The Masters title now sits nicely on the CV.
At the presentation, she apologised for her limited English, but she did say that she was happy and excited.

"I just want to go home and sleep," Yang said.

Her family brought her to Australia to embellish what was already an instinctive game.

Her father and caddie, James, who guides her every word, shot and deed, has indicated she either has or will apply for Australian citizenship.

She works the hours of an elite athlete.

Two hours' practice every morning from 5.30, before heading off to her classes at Robina State High School.

This year she is in Year 11 and returns to school tomorrow.

After school she returns to the golf course and when it is dark, she moves across to the driving range under lights.

Nothing about her victory is happenstance. She works to a program set out by Montague. Every Saturday morning, her week's work is reviewed for 90 minutes.

Her coach prepared her for the final round with both practice and theory on Saturday night. Well after other golfers had left the course, she was at the range and on the green. Her plan all week was to stand over the ball and, as instructed by Montague, FEEL NO FEAR .
The mantra was drilled again on the eve of yesterday's round and her father James, her caddie, was told to ensure his daughter also enjoyed the thrill of the day.

FINAL SCORE

275: Amy Yang (Kor. amateur) 69 66 70 70 (on 2nd play-off hole), Catherine Cartwright (USA) 70 67 70 68

276: Ya-Ni Tseng (Tpe amateur) 73 69 70 64, Louise Stahle (Swe) 72 68 68 68, Tiffany Joh (USA amateur) 72 66 69 69

277: Nikki Campbell (Aus) 75 67 67 68, Ludivine Kreutz (Fra) 69 70 67 71

278: Tamie Durdin (Aus) 70 74 66 68, Gwladys Nocera (Fra) 71 68 69 70

279: Linda Wessberg (Swe) 70 69 72 68

280: Hyun-Hee Moon (Kor) 76 68 70 66, Maria Hjorth (Swe) 70 69 72 69, Nadina Light (Aus) 73 69 69 69, Kirsty S Taylor (Eng) 71 72 68 69

281: Karin Sjodin (Swe) 71 70 71 69, Hee-Young Park (Kor) 74 65 72 70, Diana Luna (Ita) 67 73 70 71

282: Teresa Lu (Tpe) 74 70 68 70, Katherine Hull (Aus) 74 71 66 71, Lynnette Brooky (Nzl) 71 67 72 72

283: Nikki Garrett (Aus) 73 73 71 66, Lindsey Wright (Aus) 72 68 73 70, Cecilia Ekelundh (Swe) 73 71 69 70, Sophie Sandolo (Ita) 70 71 69 73

284: Yun Jye Wei (Tpe) 71 70 75 68, Cherie Byrnes (Aus) 76 71 69 68, Rebecca Stevenson (Aus) 71 72 72 69, Ana Larraneta (Spa) 71 72 72 69, Eun-Hee Ji (Kor) 69 76 69 70, Shinobu Moromizato (Jpn) 72 74 68 70, Mhairi McKay (Sco) 67 69 77 71, Rebecca Coakley (Ire) 70 72 71 71

285: Laura Davies (Eng) 73 73 70 69, Karrie Webb (Aus) 71 68 74 72, Rachel Hetherington (Aus) 71 70 72 72, Laurette Maritz (RSA) 72 72 69 72

286: Ursula Wikstrom (Fin) 70 74 73 69, Bo-Bae Song (Kor) 76 68 72 70, Asa Gottmo (Swe) 75 68 72 71, Eva Steinberger (Aut) 70 73 72 71, Ana B Sanchez (Spa) 71 69 73 73

287: Sarah-Jane Kenyon (Aus) 77 70 70 70, Stefania Croce (Ita) 71 73 71 72, Vicky Uwland-Thomas (Aus) 73 72 70 72, Anne-Marie Knight (Aus) 70 67 77 73

288: Kathryn Imrie (Sco) 75 69 72 72, Michelle Ellis (Aus) 71 72 72 73, Ran Hong (Kor) 78 69 68 73

289: Dana Lacey (Aus) 70 77 73 69, Brittany Lang (USA) 72 72 74 71, Nina Karlsson (Swe) 70 77 71 71, Ai Miyazato (Jpn) 71 75 71 72, Mi-Sun Cho (Kor a) 74 72 69 74

290: Minea Blomqvist (Fin) 71 74 75 70, Helen Beatty (Aus) 70 74 75 71, Marie-Josee Rouleau (Can) 73 72 74 71, Ayako Uehara (Jpn) 73 74 71 72, Shani Waugh (Aus) 74 70 72 74, Sarah Kemp (Aus) 75 69 72 74

291: Hae-Jung Kim (Kor) 75 72 75 69, Tullia Calzavara (Ita) 69 73 76 73, Sara Beautell (Spa) 74 72 72 73, Titiya Plucksataporn (Tha) 72 74 71 74, Loraine Lambert (Aus) 70 73 71 77

292: Anna Rawson (Aus) 74 72 77 69, Marousa Polias (Aus) 73 73 74 72, Amanda Moltke-Leth (Den) 73 74 73 72, Mianne Bagger (Den) 69 73 77 73, Anna Temple (USA) 74 73 72 73, Veronica Zorzi (Ita) 71 74 71 76

293: Jane Leary (Aus) 72 75 75 71, Leah Hart (Aus) 74 73 71 75, Jenni Kuosa (Fin) 68 79 71 75

294: Sarah Oh (Kor a) 72 71 79 72, Mardi Lunn (Aus) 72 75 75 72, Cecilie Lundgreen (Nor) 75 70 76 73

295: Kelli Kuehne (US) 74 73 70 78

296: Crystal Fanning (Aus) 71 74 77 74

297: Carlie Butler (Aus) 73 74 73 77

Read here for more

---
Comments 0
---