Read here for more in Washington Post and here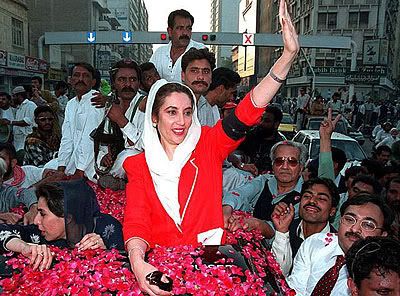 Benazir Bhutto (1953 -2007)
By
Griff Witte, Debbi Wilgoren and Pamela Constable
Washington Post Foreign Service
Pakistani opposition leader Benazir Bhutto was assassinated Thursday after a campaign rally, sparking widespread riots and raising new concerns about the stability of this nuclear-armed nation of 165 million people.
In an outpouring of grief and rage that followed the attack, which also claimed the lives of at least 20 other people, Bhutto supporters smashed glass at the hospital where she died and rioted in the teeming port city of Karachi, where vehicles and a gas station were burned and police came under gunfire. At least five people were killed in riots across the country, police reported.
Pakistani President Pervez Musharraf blamed Islamic extremists for the assassination, but some angry Bhutto supporters held Musharraf responsible.
In a nationally televised speech, Musharraf called the killing "
the work of those terrorists with whom we are engaged in war"
and vowed, "
We will not rest until we eliminate these terrorists and root them out."

Upon hearing the news of her death, thousands of people rushed to the hospital. As ambulances continued to arrive bearing dead and wounded from the bombing, the crowd outside tore down and burned campaign posters showing candidates from Musharraf's party.
The former Pakistani prime minister was killed two months after returning from exile to attempt a political comeback.
Bhutto, 54, was leaving the rally in her bulletproof vehicle when she asked that the sunroof be opened so she could bid supporters farewell, aides who were with her said. She raised her torso through the hatch, and several gunshots rang out, an aide seated next to her said.
Just as Bhutto sank into her seat, a large bomb detonated outside the vehicle. The left side of Bhutto's face was badly bloodied, aides said, but it was not clear whether she'd been killed by bullets or by shrapnel from the bombing. She lost consciousness, and never regained it.
Hours later, Bhutto's body was carried out of the hospital in a plain wooden coffin.
Her husband and children arrived from Dubai and were accompanying her body to her ancestral home in the village of Garhi Khuda Baksh, near Larkana, where she will be buried near her father. Read
here for more
---
Comments 0
---