by

Ron Sirak
Golf Digest

Read here original article

Tiger Woods is on the verge of becoming golf's first $1 billion player, and perhaps the first billionaire to accumulate his wealth as an athlete.

His career income now stands at more than a Half-Billion US dollars.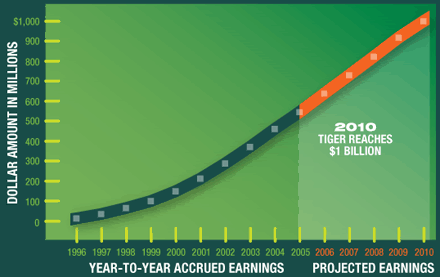 Assuming Woods continues on the same earnings trajectory, Golf Digest projects that Woods will reach the $1 billion mark in career earnings by the end of 2010.

By late 2012/early 2013, about the time Woods turns 37, he should be a Billionaire.

Says David Carter, co-founder of the consulting agency The Sports Business Group:

"That's the value of dropping out of Stanford."
So exactly how much is $1 billion? Consider:

• If a golfer had earned every penny of prize money available on the PGA Tour from 1938 through 1999, he would have made $1 billion.

• $1 billion is more than the combined winnings of the next 70 players on the PGA Tour career money list behind Woods.

• If you spent $100 a minute every minute of every day it would take more than 19 years to deplete $1 billion.




Last year, Fortune magazine estimated Woods' net worth at $295 million (Golf Digest had it at $266 million through 2004), highest among American athletes and $73 million more than the next-wealthiest, basketball star Shaquille O'Neal.

The only sports star who might rival Woods in wealth is Formula One race car driver Michael Schumacher of Germany, who earns about $60 million a year.





When Tiger Woods turned professional and signed $60 million in multiyear endorsement contracts with Nike and Titleist, Alastair Johnston, the head of golf at International Management Group, recalled the outrage over the riches being thrown at a 20-year-old golfer without a professional victory.

At the 1996 Quad City Classic, Woods' third start as a professional, his proud papa, Earl Woods, said,

"All those people who think my son was overpaid will realize one day what a bargain he was."

At a stockholder meeting in 2000, shortly after Tiger's deal with Nike was increased to $20 million a year for five years, Phil Knight, the co-founder and then CEO, was asked if there weren't a better way for the company to spend $100 million. Knight replied simply: "No."

In less than a year, the jealousy was erased by two things:

(1) Woods won six times in 10 months to become the clear No. 1 player in the world, and

(2) perhaps even more important than proving he could do it on the course was his impact off the course.

The 14.1 Sunday TV rating CBS got for Woods' 1997 Masters victory was the highest ever for a golf tournament, and it led to a new television contract signed a month later that increased PGA Tour purses 40 percent in one year.

The light went on for tour players:
This guy is going to make us all rich.
Time has proved they were right.

PGA Tour prize money has tripled since Woods turned pro.

"I've thanked him profusely," Phil Mickelson has said, "not only for what he's done for the tour but for the game of golf."

Woods is No. 1 among the Golf Digest 50, heading the list as he has every year since its inception in 2004.


Last year (2005), Woods earned almost $12 million in prize money and another $75 million off the course.


In just over nine seasons as a professional, Woods has earned $66 million in prize money worldwide

Research by Golf Digest revealed that over that same period Woods has earned another $481.8 million in endorsements and appearance fees.

According to Forbes magazine, there are 691 billionaires in the world, led by Microsoft founder and Augusta National Golf Club member Bill Gates at $46.5 billion.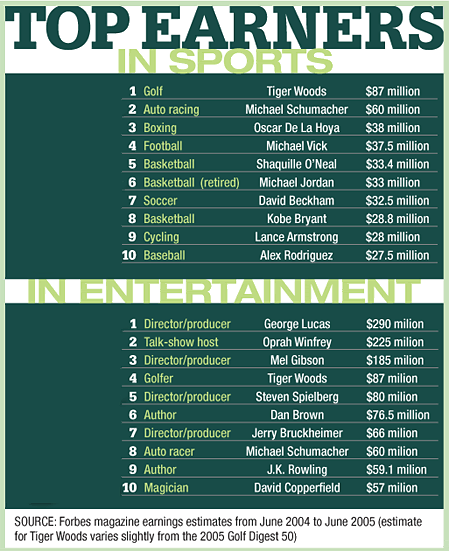 The Road to Riches by Woods

Woods has maintained an extremely low profile despite his high-profile celebrity.

Rarely does his name or photograph appear in gossip columns.

He's a man who enjoys privacy with his wife, Elin, and a few close friends rather than big-time parties.

Woods owns homes in Florida and California and has purchased an estate-home lot at 3 Creek Ranch, a golf-club development under construction in Jackson Hole, Wyo.


He also owns a $20 million, 155-foot yacht and travels by private jet, but he's not as conspicuous in his spending as many celebrities.

Those closest to Woods say his modest upbringing in the household of a career soldier has left him with an appreciation of the value of money. His investments are described as conservative--real estate is said to be one of his preferences--and it's unlikely he has taken costly risks with his wealth. Still, by virtue of his stature and wealth Woods has likely been able to invest wisely.

Estimating Woods' Investment Portfolio

Golf Digest asked Eric Gleacher, of the investment firm Gleacher Partners and a former member of the U.S. Golf Association's executive committee, to project a conservative investment portfolio for Woods.
"Let's assume he made a market return each year that he invested in the market and got the straight S&P 500 return.

Now that's very conservative. A guy with money like that has access to the best money managers and should have done better.

To compensate for that and to adjust for taxes and expenses, let's say he can invest 50 percent of his gross income each year.

Assume that for the foreseeable future the S&P return will be 8 percent.

Then just run the numbers."
What the numbers show is that during Woods' professional career, the S&P 500 had a return as high as 31.008 percent in 1997 and a loss of -23.366 percent in 2002.
In that year, for example, Woods would have lost $35.4 million in an S&P fund.
But in 2003, the S&P had a return of 26.38 percent, which would have earned Woods $41.7 million.
Our calculations show that through December 2005, Woods had a net worth of $320 million.
Using Gleacher's suggested 8 percent growth rate, we project Woods will pass the half-billion dollar mark in net worth in 2008.

Woods' Business Deals
Woods has amassed his wealth with a cautious endorsement strategy focused on companies that are proven winners.
His two original deals were with Nike and Titleist, with Titleist opting to bow out in 2000.
Woods added American Express in May 1997, a month after he won his first Masters. His other deals now include Accenture, Buick, EA Sports, Golf Digest, NetJets, TAG Heuer, TLC Laser Eye Centers, Upper Deck, Yahoo Sports and TV Asahi, one of Japan's leading broadcast companies.
Woods also commands an appearance fee as high as $3 million in overseas tournaments.

Mark Steinberg, Woods' agent at IMG, uses one word to describe Tiger's endorsement strategy:
"Global.

Part of being a true global player is appealing to the masses and reaching as broad of a demographic base as possible.

Nike is Nike, but with American Express and Tag Heuer you reach a different demographic than General Motors/Buick.

Then you have EA Sports and Upper Deck. And you can't go into an airport without seeing one of those massive Accenture posters.

You're reaching men, women, children--all ages, all over the world."
Each endorsement deal involves a time commitment to shoot commercials, do photo shoots, make appearances at company functions, and in many cases requires Woods to play in tournaments with corporate connections to his empire.

Almost a decade into his professional career and now married, Woods is finding that time is more valuable to him than money.

Each relationship requires about two off-course days a year from Tiger. He has 12 sponsors, thus approximately 24 days.

As much as the PGA Tour would like to think otherwise, the value of its product right now is tied very much to the value of Woods. TV ratings show that viewers are attracted to golf when Tiger is winning.

As he edges closer to Jack Nicklaus' record of 20 major championships--Woods has won 13 as a professional and an amateur--that fascination will only grow.

Just as clearly, the bottom line will also grow for Woods, and in the not-too-distant future that bottom line will read: $1 billion.


---
Comments 0
---