Other Breaking News

IRAN: Iran Newspaper holds HOLOCAUST Cartoon Contest

Iran's biggest-selling newspaper,Hamshahri, announced yesterday that it was holding a contest for cartoons of the Holocaust in response to the publication in European papers of caricatures of the prophet Mohammed."It will be an international cartoon contest about the Holocaust," said the graphics editor of Hamshahri, Farid Mortazavi. "The Western papers printed these sacrilegious cartoons on the pretext of freedom of expression, so let's see if they mean what they say and also print these Holocaust cartoons," he said.

Mr Mortazavi said today's edition of his paper would invite cartoonists to enter the competition, with "private individuals" offering gold coins to the best 12 artists - the same number of cartoons of Mohammed that appeared in the Danish newspaper Jyllands-Posten. Read here for more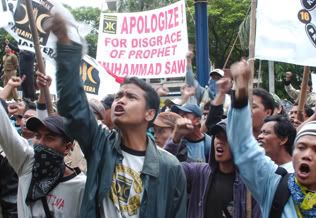 Thousands of protesters from the Prosperous Justice Party rally outside the Menara Rajawali building, which houses the Danish Embassy, in Kuningan, South Jakarta, to demand an apology for the publication of caricatures of Prophet Muhammad. (JP/Mulkan Salmona)
Related articles:
A Sobering Thought :The Border between Freedom of Speech and the Sacred

News Compass note: CNN has put out a statement saying "CNN has chosen to not show the cartoons out of respect for Islam."

Read here full article

A boycott of Danish goods called by Muslim leaders over the publishing of cartoons of Prophet Mohammad is dealing a blow to the nation's businesses.


IRAN:
Oil giant Iran became the latest nation to impose penalties, saying on Monday it would cut off all trade ties with Denmark. Reuters reported that Iran imports $280 million worth of goods from Denmark a year.

A report on the state-run news agency IRNA said Iranian Commerce Minister Massoud Mirkazemi had stopped trade with Denmark, but certain types of machinery and medicine would be allowed in for another three months.

Iran has withdrawn its ambassador to Denmark as well.

QATAR
Qatar's Chamber of Commerce said it had halted dealings with Danish and Norwegian delegations.

BAHRAIN
In Bahrain, parliament formed a committee to contact Arab and Islamic governments to enforce the boycott.

IRAQ
Iraq's transport ministry also said it was severing ties with the Danish and Norwegian governments, a move that includes terminating all contracts with companies based in those countries.
France Soir -- a newspaper that published the cartoons of Mohammed -- was evacuated for nearly three hours Monday after receiving a bomb threat.

Non-Danish companies have rushed in to tell consumers about the origin of their products in a bid to keep them on supermarket shelves.

Switzerland's Nestle, Italy's Ferrero and New Zealand's dairy co-operative Fonterra were among the companies putting out newspaper ads showing their products were not made or imported from Denmark, according to Reuters.

Danish-Swedish dairy company Arla Foods told Reuters it was losing $1.8 million of sales a day in the Middle East. Its products were removed from Saudi Arabia, Qatar and Kuwait.

"Not a single sachet of a Danish product is left on our shelves," the director of a Kuwaiti supermarket told Reuters.



Danes Feel Threatened.



The cartoons of Mohammed first appeared in a Danish paper Jyllands-Posten in September. The paper said it had asked cartoonists to draw the pictures because the media was censoring itself over Muslim issues.
The Danish paper issued an apology in late January after weeks of quieter expressions of outrage and diplomatic efforts to avoid the widespread violence.

The Danish government says it does not control what is in the country's newspapers and that courts will determine whether the newspaper that originally published the cartoons is guilty of blasphemy.The government has also expressed apologies for the offending drawings.

Denmark advised its citizens to leave Indonesia on Tuesday.

"The Foreign Ministry recommends that Danes already in Indonesia leave and that those interested in coming postpone their plans," said Geert Aagaard Anderson, Denmark's ambassador to Indonesia, who said there was little security in place to protect his citizens.Danish missions in the country have been temporarily closed.Protests have been held in the capital, Jakarta, and at least two other cities, with demonstrators throwing rocks and setting fires at several Danish consulates.

Anderson said he did not know exactly how many Danes were in Indonesia. Close to 250 have registered at the embassy, he said, but the number was likely much higher.Read here for more

Malaysian Muslims will march to the Danish mission here later this week in protest against the publication of caricatures of the Prophet Mohammed, an opposition Islamic party official said. Read here for more

Many of the 5.5 million people of Denmark have been shocked by the extreme scenes of violence they've been witnessing across the Middle East directed towards their government. It is not accustomed to seeing its flag burned in the streets. Most say this is an over-reaction, a matter of freedom of speech and the paper did nothing wrong by printing the cartoon.

They are concerned this issue may make Denmark a target of Muslim extremists in the future. The country already has troops in Iraq and that has led to some insecurity, they believe. They've also been threatened on the air waves by members of al Qaeda, but this has really taken on a new dimension. People in this quiet northern kingdom are feeling quite insecure now.

The government of Denmark is more concerned about is the damage to the international image of their country: a country that they like to see as extremely tolerant and one that has respect for all religious groups. And this row has put a big dent in that image.Read here for more

Some other European papers later published some of the cartoons, as a way of covering the controversy and also, some papers said, as a matter of freedom of expression.

Two small weekly Jordanian newspapers also reprinted the cartoons and, according to Jordan's Petra News Agency, arrest warrants issued for the editors-in-chief.

Two protesters were killed and 13 others injured, when Afghan police fired Monday on about 2,000 protesters who tried to enter Bagram Airbase, a U.S. base north of Kabul, The Associated Press reported.

In Tehran, demonstrators protested outside the Danish Consulate and the Austrian Embassy. Austria is currently serving as president of the European Union.

Other protests Monday took place in Amman, Tel Aviv, Gaza, Indian-controlled Kashmir, the Indian capital of New Delhi and Kut, a city in southern Iraq where about 5,000 people congregated, burned flags and burned an effigy of the Danish prime minister.

---
Comments 4
---