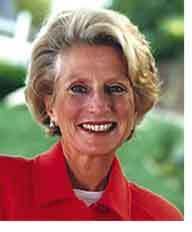 J

ane Harman, who is Jewish, is the DEMOCRAT Congresswoman for California
Read
here Profile of Jane Harman
.
Related Articles
IAEA responded to Jane Harman and Peter Hoekstra's Congressional Report on Iran, as "outrageous and dishonest," filled with "erroneous, misleading and unsubstantiated statements" Read here for more


"..... Peter Hoekstra and Jane Harman have NO interest in reality: their "report" is war propaganda, pure and simple. Both are determined to protect Israeli interests, at the expense of American interests, by threatening to go to war if Iran continues to pursue its apparent goal of joining the nuclear club, along with its neighbors, Israel and Pakistan... Everybody knows that what John J. Mearsheimer and Stephen Walt call "the Lobby" is behind the current campaign to gin up another Middle Eastern war, this time with Iran. It is coming because there is simply no opposition to the Lobby's ironclad control of the U.S. Congress. The defense of Israel overrides and effectively neutralizes all other considerations. It doesn't matter that a confrontation with Iran will create yet more terrorists determined to strike at America..... " READ HERE FOR MORE

Read here full article in Time

The US Justice Department and the Federal Bureau of Investigation is examining whether Rep. Jane Harman of California and AIPAC arranged for wealthy supporters to lobby House Democratic leader Nancy Pelosi on Harman's behalf.

Did a Democratic member of Congress improperly enlist the support of a major pro-Israel lobbying group to try to win a top committee assignment?

That's the question at the heart of an ongoing investigation by the FBI and Justice Department prosecutors.

Prosecutors are examining whether Rep. Jane Harman and the American Israel Public Affairs Committee (AIPAC) may have violated the law in a scheme to get Harman reappointed as the top Democrat on the House intelligence committee.
The case is a spin-off of a probe that has already led to charges under the Espionage Act against two AIPAC lobbyists, and former Defense Intelligence Agency official Lawrence A. Franklin both accuses of improper disclosure and handling of classified information and passing it on to Israel.
Around mid-2005, the investigation expanded to cover aspects of Harman's aggressive campaign to persuade House Minority Leader Nancy Pelosi to reappoint her to the the House intel panel.
The probe also involves whether, in exchange for the help from AIPAC, Harman agreed to help try to persuade the Administration to go lighter on the AIPAC officials caught up in the ongoing investigation.
The Justice Department has previously suggested that AIPAC had questionable motives in trying to help a valued government contact remain in a sensitive national security post.
The lobbbying for Harman has included a phone call several months ago from entertainment industry billionaire and major Democratic party contributor Haim Saban.
Haim Saban is a Jewish television and media mogul, owner of Saban Media Group and is the former co-owner of Fox Family Worldwide. With an estimated current net worth of around $2.8 billion, he is ranked by Forbes as the 98-richest person in America. Born in Alexandria, Egypt to a modest Jewish family in 1944, Saban fled persecution in Egypt and claims to have arrived penniless in Israel in 1966, then to France around 1973, and eventually to the United States in 1983. He currently resides in Beverly Hills, California. Saban has 4 children with his wife, Cheryl. Read here for more on Haim Saban
Saban has donated at least $3,000 to Harman's campaign, according to Federal Election Commission records, and the Saban Center for Middle East Policy, which he sponsors at the prestigious Brookings Institution, boasts Harman among its biggest fans.
"When the Saban Center talks, I listen," Harman said at a Saban Center briefing in February on U.S. strategy in Iraq.

---
Comments 0
---