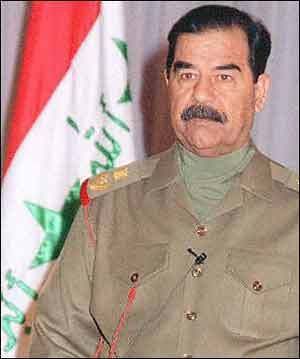 Click here ->Time Line: His Life
Read here full article
Saddam Hussein was hanged Saturday under a sentence imposed by an Iraqi court.

Saddam, who said in court he had no fear of dying, had a farewell meeting with two of his half-brothers on Thursday, his lawyers said, adding the fallen dictator was in high spirits and ready to die a "martyr."

The deposed president was found guilty over the killing of 148 members of the Shiite population of the town of Dujail after militants tried to assassinate him there in 1982, during Iraq's war with Shiite Iran.

Saddam has been held at a U.S. base near Baghdad airport, but the place of execution has been kept secret.

A U.S. judge refused late Friday to stop the execution, rejecting a last-minute court challenge by the former Iraqi president.

The governments of Yemen and Libya made eleventh-hour appeals that Saddam's life be spared.

Yemeni Prime Minister Abdul-Kader Bajammal wrote to the U.S. and Iraqi presidents, warning in his letter to President Bush that Saddam's execution would "increase the sectarian violence" in Iraq, according to the official Yemeni news agency Saba.

Libyan leader Moammar Gadhafi made an indirect appeal to save Saddam, telling Al-Jazeera television that his trial was illegal and that he should be retried by an international court.

The Pentagon said U.S. forces, always on high alert in Iraq, were braced for any upsurge in violence from Sunni insurgents loyal to Saddam.

"Petitioner Hussein's application for immediate, temporary stay of execution is denied," U.S. District Judge Colleen Kollar-Kotelly said in Washington after a hearing over the telephone with attorneys.

An Iraqi appeals court upheld Saddam's death sentence Tuesday for the killing of 148 people who were detained and tortured after the attempt on his life.

Najeeb al-Nueimi, a member of Saddam's legal team, said U.S. authorities were maintaining physical custody of Saddam until the time of the execution to prevent him from being humiliated beforehand. He said the Americans also want to prevent the mutilation of his corpse, as has happened to other deposed Iraqi leaders.

Saddam's conviction was hailed by President Bush as a triumph for the democracy he promised to foster in Iraq after the 2003 invasion.

International human rights groups criticized the year-long trial, during which three defense lawyers were killed and a chief judge resigned complaining of political interference.

Rights groups, along with the United Nations and many of the United States' Western allies, oppose capital punishment and have voiced unease over the decision to put Saddam to death.

Saddam's lawyers issued a statement Friday calling on "everybody to do everything to stop this unfair execution." The statement also said the former president had been transferred from U.S. custody, though American and Iraqi officials later denied that.

Impact from Saddam's Execution Read here for more
Many Iraqis and Americans have looked forward to the day when justice would catch up with Saddam Hussein. Yet, when it arrived, it seemed to be much less than the historic turning point many once had anticipated.

With Iraq beset by violence and turmoil, the dictator's demise no longer appeared to signal the beginning of new order. The execution seemed only another reminder that the country's divisions remain deep and seemingly insoluble nearly four years after the American invasion.

Even among some officials in the Bush administration, the potential for a positive reaction to Saddam's death was considered limited.

Two years ago, it appeared that Iraqis were beginning a dialogue about their common history and Saddam's place in it. If the country had made greater steps toward a unified view of their history, then Saddam's execution might have more weight, said Nathan Brown, a specialist in Arab politics at Carnegie Endowment for International Peace.

But with the country increasingly fractured along sectarian lines, "this is a bit more of a sideshow that it would have been," Brown said.

Saddam's execution also would have carried more significance had his trial been carried out differently, some experts said.

Juan R. Cole, a Mideast specialist at the University of Michigan, said the nature of the trial would also tend to further divide Iraqis, rather than heal past wounds.

Because the charges concerned Saddam's reprisals against members of a revolutionary Shiite party, Dawa — which happens to be the party of the current and last Iraqi prime ministers — the execution would look to many Sunnis as simple score-settling.

"This can be read as the Dawa party and a Kurdish judge taking revenge on Saddam," Cole said. "To the Sunnis it will look like just one more slap in the face.... This is the opposite of national healing and will just deepen the divisions."

Cole said he expected adverse Sunni reaction to the execution, noting that about 20 demonstrators were killed in Sunni-dominated Baqubah after Saddam's verdict was announced.

Even so, he agreed that the verdict's political significance will be limited.

"It won't change anything on the ground," he said.
Saddam insisted during his trial that he was still the president of Iraq. He said in a letter written after his conviction that he offered himself as a "sacrifice".
"If my soul goes down this path [of martyrdom] it will face God in serenity," he wrote in the letter.
Issam Jhazzawi, one of Saddam's defence lawyers, said on Friday that Saddam's daughters in Jordan were bracing for his imminent death.
"The family are praying for him every minute and are calling on God that He let his soul rest in peace among the martyrs," he said.
A source close to the family said that Saddam's daughter, Raghd, "is asking that his body be buried in Yemen temporarily until Iraq is liberated and it can be reburied in Iraq".Read
here for more
---
Comments 0
---