Read here full article in International Herald Tribune

Read HERE related article: "The Power of Israel in United States" - New Book by Prof. James Petras

The Pentagon inspector general has finally confirmed that Defense Secretary Donald Rumsfeld's do-it-yourself intelligence office cooked up a link between Iraq and Al Qaeda to help justify an unjustifiable war.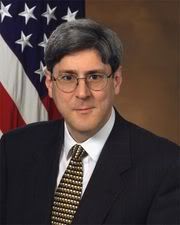 Douglas Feith
(Rumsfeld's) team headed by
Douglas Feith, Under Secretary of Defense for Policy
, developed
"alternative
" assessments of intelligence on Iraq that contradicted the intelligence community and drew conclusions "
that were NOT supported by the available intelligence
."
Feith hid his findings from the CIA. Then Vice President Dick Cheney used them as proof of :
cloak-and-dagger meetings that NEVER happened,


long-term conspiracies between Saddam Hussein and Osama bin Laden that didn't exist, and


— most unforgivable — "possible Iraqi coordination" on the 9/11 attacks, which NO serious intelligence analyst believed.
The inspector general did NOT recommend criminal charges against Feith .
The reason ? Because
Rumsfeld or his deputy, Paul Wolfowitz
, approved their subordinate's "inappropriate" operations.
But there is no comfort in knowing that his dirty work was approved by his bosses.
The renegade intelligence buff said he was relieved.
We're sure he was.
All that does is
add to evidence that the Bush administration knowingly and repeatedly misled Americans about the intelligence on Iraq.
It is important to recall how Feith got into the creative writing business.
Top administration officials, especially Vice President Cheney, had long been furious at the CIA for refusing to confirm the delusion about a grand Iraqi terrorist conspiracy, something the Republican right had nursed for years.


Their frustration only grew after 9/11 and the CIA still refused to buy these theories.


Paul Wolfowitz (currently the President of World Bank) would feverishly sketch out charts showing how this Iraqi knew that Iraqi, who was connected through six more degrees of separation to terrorist attacks, all the way back to the 1993 World Trade Center bombing.


But the CIA kept saying there was NO reliable intelligence about an Iraq-Qaeda link.


So Douglas Feith was sent to review the reports and come back with the answers Cheney wanted.
Feith's team gave a September 2002 briefing at the White House on the alleged Iraq-Qaeda connection. The briefing had NOT been vetted by the intelligence community (the
director of central intelligence was pointedly not told it was happening
) and "
was NOT fully supported by the available intelligence."

The false information included
a meeting in Prague in April 2001 between an Iraqi official and Mohamed Atta, one of the 9/11 pilots.
It NEVER happened.
But Feith's report said
IT DID
.
Cheney will still NOT admit that the story is false.
Senator Carl Levin, the new chairman of the Senate Armed Services Committee noted that the cooked-up Feith briefing had been leaked to the conservative Weekly Standard magazine so Cheney could quote it as the "best source" of information about the supposed Iraq-Qaeda link.
The Pentagon report is one step in a long-delayed effort to figure out how the intelligence on Iraq was so badly twisted — and by whom.
It is now up to Levin and Senator Jay Rockefeller, the current head of the intelligence panel, to give Americans the answers.
Senator Jay Rockefeller
will have to finally determine :
how old, inconclusive, unsubstantiated and false intelligence was transformed into fresh, reliable and definitive reports . and then


used by Bush and other top officials to drag the country into a disastrous war.
Douglas Feith
was born on July 16, 1953, in Philadelphia, Pennsylvania to
Jewish
parents, Rose and Dalck Feith;
he is one of three siblings.
Feith's father
Dalck
was a member of the
Betar a Revisionist Zionist youth organization, in Poland,
and a Holocaust survivor who lost his parents and seven siblings during the Holocaust. He came to the United States during World War II, and became a generous donor to the Republican party.
Douglas Feith first entered government as a Middle East specialist on the
National Security Council
(NSC) under
Ronald Reagan
in 1981.
He transferred from the NSC Staff to Pentagon in 1982 to work as Special Counsel for
Richard Perle
,
(another Jewish NeoCon)
who was then serving as
Assistant Secretary of Defense for International Security
.
Secretary of Defense
Caspar Weinberger
promoted Feith in 1984 to Deputy Assistant Secretary of Defense for Negotiations Policy.
When Feith left the Pentagon in 1986,
Weinberger gave him the highest Defense Department civilian award, the Distinguished Public Service medal.
Feith also served on the
board of the Jewish Institute for National Security Affairs (JINSA)
,
a think tank that promotes a military and strategic alliance between the United States and Israel.

Feith favors US support for Israel and has promoted US-Israeli cooperation.
Both Feith and his father have been honored by the
Zionist Organization of America (ZOA
), a conservative organization that often makes common cause on foreign policy issues with conservative Christian organizations.
Feith also cofounded the organization One Jerusalem
to oppose the Oslo peace agreement. Its purpose is "
saving a united Jerusalem as the undivided capital of Israel."
He is also
Director of Foundation for Jewish Studies
, which
"offers in-depth study programs for the adult Washington Jewish community that cross denominational lines
."
Feith was a member of the study group which authored a controversial report entitled
A Clean Break: A New Strategy for Securing the Realm, a set of policy recommendations for the newly elected Israeli Prime Minister Benjamin Netanyahu.
The report was published by the
Institute for Advanced Strategic and Political Studies
without an individual author being named.
According to the report, Feith was one of the people who participated in roundtable discussions that produced ideas that the report reflects. Feith pointed out in a Sept 16, 2004 letter to the editor of the Washington Post that he was not the co-author and did not clear the report's final text. He wrote, "
There is no warrant for attributing any particular idea [in the report], let alone all of them, to any one participant
."
Feith criticized the Oslo Accords and the Camp David peace agreement mediated by former President Jimmy Carter between Egypt and Israel.
In 1997, he published a lengthy article in Commentary, titled "
A Strategy for Israel
". In it, Feith argued that the Oslo Accords were being undermined by Yasser Arafat's failure to fulfill peace pledges and Israel's failure to uphold the integrity of the accords it had concluded with Arafat.
Two years later, Feith and other former U.S. officials signed an open letter to President Bill Clinton
calling for the United States to oust Saddam Hussein
.
Feith was part of a group of former national security officials in the 1990s who supported Ahmad Chalabi and the Iraqi National Congress and encouraged the U.S. Congress to pass the Iraq Liberation Act of 1998.
That act was approved by Congress and signed into law by President Clinton.

Upon leaving the Pentagon, Feith established the Washington, DC law firm of Feith & Zell.
His law firm colleague, Marc Zell, was resident in Israel.
Feith is now on the
faculty of the Edmund A. Walsh School of Foreign Service at Georgetown University,
where he teaches a course on the Bush administration's antiterrorism policy.
---
Comments 0
---