Read here for more

The Virginia Tech student identified as the assailant in Monday's deadly gun rampage was a South Korean immigrant who had been in the United States since 1992 and who held a green card signifying his status as a legal permanent U.S. resident, federal officials said Tuesday.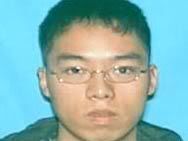 Cho Seung-Hui, a 23-year-old English major, was listed with a home address in Centreville, Va., a suburb of Washington, D.C., not far from Dulles International Airport.

Immigration records maintained by the Department of Homeland Security show that Cho was born in South Korea on Jan. 18, 1984 and entered the United States through Detroit on Sept. 2, 1992. He had last renewed his green card on Oct. 27, 2003.

University officials said he lived in a dormitory on the Virginia Tech campus, but could shed no light on a motive for the shooting spree that left 33 dead. "He was a loner, and we're having difficulty finding information about him," said Virginia Tech spokesman Larry Hincker.

Cho's fingerprints were found on two handguns used in the rampage, said two law enforcement officials who spoke on condition of anonymity because the information had not been announced. The serial numbers on the two weapons had been filed off, the officials said.

Ballistics tests by the federal Bureau of Alcohol, Tobacco and Firearms showed that one of the guns was used in both of Monday's separate campus attacks that happened two hours apart.

Cho was found with a backpack containing a receipt for a Glock 9mm pistol that he had bought in March.

As a permanent legal resident of the United States, Cho was eligible to buy a handgun unless he had been convicted of any felony criminal charges, a federal immigration official said.

Troubled Kid

He was an English major whose creative writing was so disturbing that he was referred to the school's counseling service. News reports also said that he may have been taking medication for depression, that he was becoming increasingly violent and erratic, and that he left a note in his dorm in which he railed against ``rich kids,'' ``debauchery'' and ``deceitful charlatans'' on campus.

Professor Carolyn Rude, chairwoman of the university's English department, said she did not personally know the gunman. But she said she spoke with Lucinda Roy, the department's director of creative writing, who had Cho in one of her classes and described him as "troubled."

``There was some concern about him,'' Rude said. ``Sometimes, in creative writing, people reveal things and you never know if it's creative or if they're describing things, if they're imagining things or just how real it might be. But we're all alert to not ignore things like this.''

She said Cho was referred to the counseling service, but she said she did not know when, or what the outcome was. Rude refused to release any of his writings or his grades, citing privacy laws.

The Chicago Tribune reported on its Web site that he left a note in his dorm room that included a rambling list of grievances. Citing identified sources, the Tribune said he had recently shown troubling signs, including setting a fire in a dorm room and stalking some women.

Fear of Asian Backlash (read here for more)

Virginia Tech student Jiyoun Yoo was terrified when she heard a gunman had rampaged through her campus, killing 32 of her classmates. When news broke on Tuesday that the gunman was a South Korean student, her fear took a new direction.

"I'm from South Korea, so I am a little bit scared," said Yoo, 24, as she walked on campus. "The shooting was just one person, but maybe it will affect all South Korean students."

Yoo, a petite graduate student with long black hair, said she didn't know the gunman and none of her Korean friends had heard of him either.

"If he speaks Korean, we'd maybe know him, but none of us does," she said. She said her family in Seoul had called overnight, very concerned Yoo might be a target if there was a backlash against Asian students at Virginia Tech.

"It is big news in South Korea. Yesterday they were worried if I'm safe, now they are worried there might be a risk that I'm South Korean," said Yoo.

The South Korean government also expressed fears of a backlash.

"We are working closely with our diplomatic missions and local Korean residents' associations in anticipation of any situation that may arise," a foreign ministry official said in Seoul.

South Korea has the largest number of foreign students in the United States, with nearly 15 percent, according to the U.S. Customs and Enforcement Web site.

Police say Cho chained doors closed to trap students inside as he gunned them down before killing himself. Rumors leaked out on Monday that the gunman was Asian, but it was not until Tuesday that his identity and nationality was revealed.

Some 1,655 students at Virginia Tech, or 6.2 percent, are Asian, the university's Web site says.

White students on campus dismissed suggestions there might be a backlash against foreigners at the university.

"It hadn't even crossed my mind," said Andrew Rush, 20, an accounting major. "There is a huge Asian community on campus and we're all together in class all day. It's so integrated I don't think this will change anything."

Foreign-born residents in Blacksburg said the town, nestled in the mountains of southwest Virginia, has been a welcoming place to live and work.

"Everyone has always been open and supportive," said Xiaojin Moore, co-owner of the Oasis World Market grocery store about a mile (1.6 km) from campus.

Moore, a native of China, hopes her three small children will not be targeted because of their Asian appearance.

"We just want to be left alone to figure things out, until things calm down," Moore said.

---
Comments 0
---