Read here article by Bernard Lagan , "Decade of victories set to end in day of humiliation for lame duck" in Times Online (UK)


He is the world's most enduring conservative leader, a man of steel, in the words of George W. Bush. Yet, after more than a decade in office and, now, overseeing an economic boom of a scale barely seen before in Australia, John Howard appears to be heading for oblivion when the country votes tomorrow.

It could not only be the end of the Liberal-National coalition Government that he has led since 1996 but also, ignominiously, the loss of the seat of Bennelong in suburban Sydney that Mr Howard has represented for 33 years in the Australian Parliament.

Were he to lose his seat – and the polls say that it is likely - Mr Howard will be only the second prime minister in Australian history to find himself voted out of Parliament.

Yesterday he was battling to contain a scandal after Liberal campaigners were exposed distributing pamphlets accusing the Opposition of sympathising with terrorists. Howard supporters were caught delivering leaflets attributed to a bogus Islamic organisation that urged voters to support the opposition Labor Party because it approved of forgiving terrorists involved in the deadly 2002 Bali nightclub bombings.

"I do not believe that the Australian Labor Party has ever had sympathy for the Bali bombings, and I thought it was an outrageous thing to say," Mr Howard said. "It was tasteless and offensive."

It is a remarkable comedown for the big-spending populist. He is the diminutive 69-year-old who, memorably, turned the country's SAS forces on a bunch of impoverished, ragged asylum-seekers before winning the 2001 election.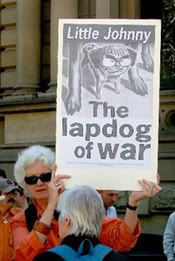 He is the former solicitor who used his renowned capacity for fear-mongering to win the last election in 2004, when he mounted a scare campaign against the Labor Party's ability to hold down interest rates.
He is the hard-of-hearing grandad who prides himself on being in touch with the aspirations of ordinary Australians.
There is no single answer for John Howard's rapidly declining popularity. Undoubtedly he has suffered poor luck. He has, however, also been the victim of his own unfortunate timing and misread the true level of support he enjoys among his colleagues. And he has stayed too long.
Mr Howard's poor luck came in the middle of the six-week election campaign when the central Reserve Bank of Australia decided to increase interest rates just as he was declaring that only his Government could be trusted to run the economy. The rate increase was the sixth since the 2004 election, in which Mr Howard crushed Mark Latham, then Labor leader, by claiming that he lacked the experience to manage the economy.
After the latest increase, Mr Howard protested that his Government was a victim of its own economic success, which is partly true because the mining-led boom has fuelled inflation. This hardly blunted a claim by Kevin Rudd, the Labor leader, that the Prime Minister could no longer be trusted.
This week Mr Howard had the opportunity to revive his reelection chances at his party's official campaign launch in Brisbane. He relied on his favourite late-campaign formula: the big spend.
He offered another A$9.5 billion (£4 billion), taking the total value of his preelection promises to A$65 billion.
Only two hours before Mr Howard's speech, the Reserve Bank had given warning that further large increases in government spending would put yet more upward pressure on interest rates.
The economic commentary was scathing of Mr Howard's tactics. That was why Mr Rudd attracted wild applause at his campaign launch two days later when he rejected the idea of further big spending promises by the Labor Party.
Finally, it was Mr Howard's misreading of the support that he enjoyed from his ministers that forced him in September to declare that he would stand aside as Prime Minister during his next term if he won tomorrow's election. He nominated Peter Costello, 50, his ambitious deputy and Treasurer, as his successor.
The Prime Minister's declaration has turned him into a lame duck.
It has allowed the Labor Party to argue that nothing Mr Howard promises for the future can be believed because he will not stay in the job. And attempts by Mr Howard and Mr Costello to portray a newfound sense of bonhomie during the campaign have appeared forced and unconvincing.
Mr Howard was still arguing yesterday that the Government could win the election, but with the coalition trailing heavily in the polls, he appeared a man going through the motions, without conviction.
---
Comments 0
---