Read here article by Jim Lobe

Excerpts

McCain and Palin are doing everything they can to wrap themselves in the legacy of Ronald Reagan (Gipper) .

Its worth noting who was "palling around with terrorists" when the Gipper was at the height of his powers after his 1984 reelection and before the Iran-Contra scandal.

It was back in 1985 that McCain's and Palin's hero hosted Gulbuddin Hekmatyar, then a key Mujahadin leader (and major Islamo-fascist, as some might call him), at the White House. (Hekmatyar is in the foreground on the far left in the photo.)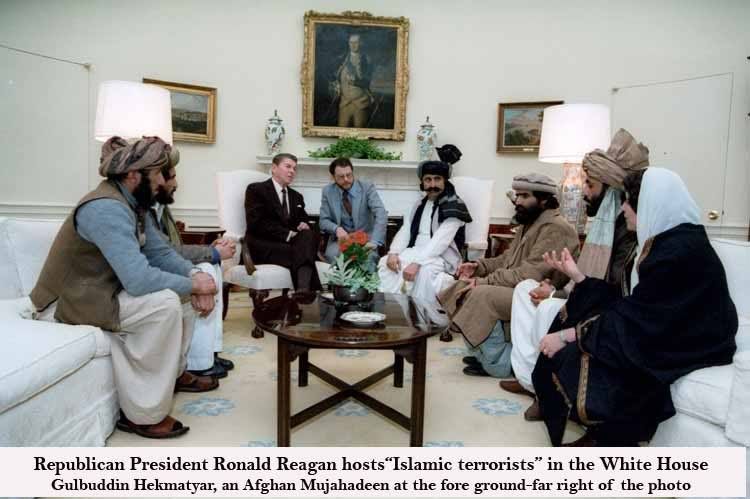 Hekmatyar has voiced his admiration for Osama bin Laden.
He is now one of the trio of key warlords — they also include the Taliban's Mullah Mohammed Omar and Jalaluddin Haqqani — who have been named as Public Enemies Number One by the Pentagon in Afghanistan.
Here's how the Los Angeles Times described Reagan's guest in a recent article:
"Hekmatyar, who is based north of Peshawar in Pakistan, is the most mercurial of the three.

As an engineering student at Kabul University in the 1970s, he was accused of throwing acid in the faces of women who did not wear a veil.

He became one of the most effective mujahedin leaders in the war against the Soviets during the 1980s, leading a group that received millions in CIA funding.
The CIA and U.S. special operations teams, hoping to turn him again, have approached Hekmatyar in recent years through intermediaries, according to U.S. sources. Last year, he was also contacted by representatives of Afghan President Hamid Karzai. The talks went nowhere, according to Afghan news reports.

Paul Pillar, former deputy chief of the CIA's counter-terrorism center, described Hekmatyar as a "very ambitious, very strong-willed, vicious sort of guy. Unless he were directly, physically put out of commission, he is going to continue to vie for power."

Hekmatyar's Hezb-i-Islami group was accused of an ambush in August near Kabul that killed 10 French paratroopers."
It's always useful to recall the Reaganite roots of the "
global war on terror
," at least in Southwest Asia, to gain some historical perspective about the
"exceptional
" nature of U.S. foreign policy and its status as "
the greatest force for good in this world
," as Palin put it last weekend at the same California rally
where she accused Sen. Obama of "palling around with terrorists."
Different times, different circumstances, of course.
But Hekmatyar's background and viciousness were well known at the time of his White House reception.
McCain, who was elected to the House of Representatives in 1982, was, of course, an enthusiastic supporter of the Afghan "freedom fighters" and the "Reagan Doctrine" that supported them and other insurgent groups in countries Washington considered to be Soviet clients in the 1980s.
As reported in a very good article by the Associated Press earlier this week, McCain served on the board of advisers of the U.S. section of the World Anti-Communist League (WACL), the Phoenix-based U.S. Council for World Freedom, through at least 1984.
According to his account, asked to have his name removed from the Council's letterhead in 1986
(presumably just as the Iran-Contra scandal, in which the Council's chief, ret. Gen. John Singlaub, played a key role),
was breaking.
As noted by AP, States News Service
placed

McCain

at a Washington Council event that honored one of Hekmatyar's comrades in 1985.
---
Comments 0
---